Hello,
Probably my Renault was in 2 gears at the same time, after that while driving there was some noise out of the gearbox.
I disassembled the gearbox cover and with a magnet I found the things that are on the picture.
I think the large round washer accidentially came into the gearbox by a previous owner, I have the tractor an half a year now.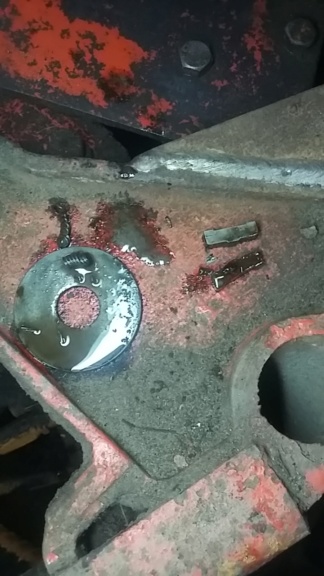 The other parts are 2 springs from somewhere I don't know and 2 parts I think that are number 31-482 in the drawing.
Is that right that they are from the synchronisers or could that be from somewhere else in the gearbox?
I have split the tractor, is it right that I can get out the axles whith the gears from the 'back' of the gearbox? So that I have to remove the part of the tractor with the axles and where the chair is placed?
Kind regards Arjen
Dernière édition par boegie le Lun 29 Oct 2018, 18:43, édité 2 fois
Bonsoir,

Pour intervenir sur l'arbre intermédiaire avant de BV qui porte les synchroniseurs des vitesses il faudra déposer la BV du tracteur et ensuite déposer le carter d'embrayage pour avoir accès à l'écrou avant de cet arbre.
Les clavettes trouvées sont bien les clavettes de synchroniseurs qui sont échappées suite à déformation des freins de synchro ce qui a produit un faux engagement de 2 vitesses suite à blocage des freins sur les cônes de pignons.
Pour cette intervention je vous invite à vous procurer le MR 151 chapitre D3 que l'ATR est en mesure de vous procurer.
Amicalement.
Hello,

Okey thank you
I have the chapter D3 at home, I lend it from the Claas dealer

Kind regards,
It was not the only problem I found.
When I disassembled the back and looked to the differential I saw damaged teeth.
A part of the differential was broken and fallen between the pto axle, and the crown and pinion wheel.
In the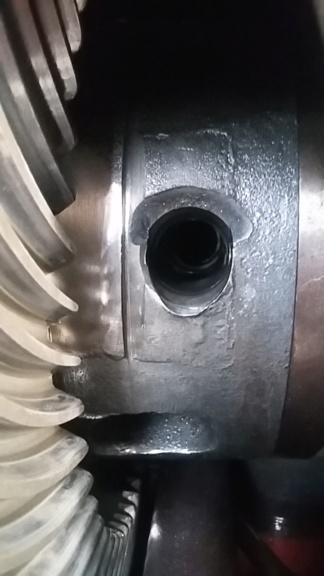 Is it a problem that is more common? I never have heard of it.
The teeth in the differential seems not bad, is it possible to renew only that axle of is the damage in the last picture to big?
Kind regards, Arjen
Good evening,

This incident is very rare and difficult to explain differently than by an exhaust of pin of maintenance of one of the axes of satellites. The differential housing will be to replace as well as the other parts deteriorated by this incident. It would be in doubt possible to find these parts on occasion.
Best regards
Good evening,
I found a used differential by a Renault wrecker.
But now I have a new question.
What is the thing above the arrow? I cant find anything about it in the manuals etc. Can I dissasemble it by loosen both bolts above the cilinder (bolts are vissible on the picture).
Thank you and kind regards,
Arjen
Bonsoir,

Cette pièce contient le ressort pour le contrôle d'effort du relevage et ne doit pas être touché si pas détérioré.
Amicalement.

Good evening,

This part contains the spring for the control of effort of the lifting system and does not have to be touched if not not deteriorated.
Best regards



Sujets similaires
---
Permission de ce forum:
Vous
ne pouvez pas
répondre aux sujets dans ce forum